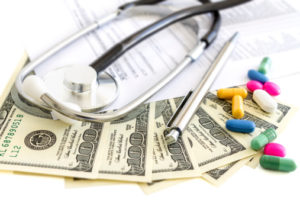 There's no doubt that the idea of adding to your business costs is rarely a popular idea. When you're so focused on seeing through each month and generating a profit, it can feel like every debit you have to make to your business accounts is a huge drain. So being told that you need to think about employee healthcare coverage? That's probably not the most welcome of statements.
The truth is, however, that the health of your employees is vitally important to your business. Without a healthy staff, you're going to suffer from chronic problems and a huge loss of productivity caused by sick days and absences. Investing in how healthy your employees are is an investment in the future of your business – so if you try and think of it like that, it might be easier to handle the loss to your finances.
Should you make the decision to invest in healthcare coverage, this gives birth to many additional decisions you have to make. What type of coverage should you offer? What is important to prioritize in the coverages? What exclusions can you expect?
All important decisions that are worthy of your time, but for the moment, let's focus on a more macro level. While general healthcare coverage is great, you're also going to need to think about using business senses to give your employees the best healthcare they need. And that's 'business senses' in a very literal way…
Sight
A general healthcare policy might not cover employee vision and sight health. Why do you need this area covered?
Poor eyesight can cause headaches and fatigue, meaning your employees won't be at their best.
If someone is struggling to see properly, they are less likely to be able to spot errors in fine print – which could cost your business substantially.
So it's always worthwhile to check out business vision insurance rates if your policy doesn't cover eye and sight costs as standard.
Hearing
If you have an older workforce, then natural degeneration in hearing is an area you need to focus on. It's also a priority if you work in an industry that involves employees being exposed to loud noises, such as construction.
If you don't provide the correct sound-blocking technology for employees, then you could be vulnerable to a future lawsuit. Doing this and offering proper healthcare to ensure the measures you have taken are effective is a perfect way of covering yourself for the future.
Older employees have a lot to offer in terms of experience. Don't allow them to be left behind by not being able to hear in meetings or struggling with phone calls.
Try and find a policy that covers not only regular hearing checks, but anything that offers assistance with the cost of a hearing aid.
Taste
If there is anything you can do to ensure your employees are eating a healthy diet, then it's a great investment. Not only will they be healthier in general, but it also means fewer claims on your company policy.
By focus on the above areas, you can be confident of a comprehensive coverage for your employees health – benefiting your business in the long run as well!