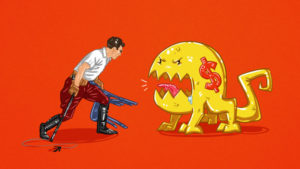 If you're in over your head with debt, you may be desperately seeking ways to get rid of it. Debt can hang over you like a black cloud about to strike you with lightning, but there are ways out. The first rule when it comes to clearing any sort of debt is to tackle it head on instead of avoiding it. Avoiding things like debt will just make the situation worse. So, how do you clear debt fast?
Plan It
Before you put any plan into action, you need to sit down and figure out where to start. What debt do you have? What are the interest rates on your Credit 24 loans and credit cards? Lay it all out in front of you, even if facing it makes you feel anxious. Common sense would tell you to pay a little towards each one every month, but it's best to tackle the debt with the highest interest rate first. That's not to say you should completely ignore the others, but if you can put more money towards the one with the highest interest rate, your payment per month should significantly decrease over time.
Transfer Your Balance
When you got your loans or credit cards, you may have been in a position where you had no choice but to go for higher interest rates because they were the only ones that would accept you. By transferring your balance to a loan or card with a lower interest rate or a 0% interest rate for a certain amount of time card, you'll have the chance to catch up on payments.
Prioritize Payments
You shouldn't take money that supposed to go towards your mortgage to pay a credit card. There are ways you can save money but you must prioritise your payments. Sort out the needs from the wants. For example, paying your electricity bill is a top priority, but paying for games on your Xbox is something you can cut back on. Here's a list of other cut backs you can make to save money. The money you save can go towards paying your debt so don't be tempted to use it on things you want.
Stop Using Credit Cards
There's no point in working hard to pay off your debt if you're still spending at the same time. It can be a habitat and an addiction when it comes to spending. So, if you don't trust yourself with your card, ask a family member or friend that you trust to keep it for you. If you know you're likely to spend again and end up in the same situation, maybe it's time to give the card the chop.
The main thing to do when it comes to clearing debt is to not bury your head in the sand. If you need help, ask for it. There are many places you can get advice and it helps you to feel like you're not alone. Just by reading this, you're already on the right track. Good luck!