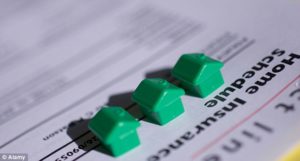 A home insurance policy is a great way to secure one of your biggest investments. That said, a lot of us are quite apprehensive about the home insurance premium. But it is essential that you get a proper home insurance policy to safeguard yourself against any distress caused in the event of a mishap. It's all about doing some homework and get your basics right when it comes to home insurance requirements.Don't know how to go about it? No need to worry, read on.
Today you can find a lot of home policies from insurance providers, offering different types and levels of coverage. Naturally, the first thing therefore to do is to analyze your coverage requirements carefully. With this understanding in place, you will be in good position to know what to look for and make an informed decision.
Another thing on similar lines is to identify what type of coverage is needed for your house. Basically, there are two types of home insurance coverage one can opt for. A home insurance that covers just the structure will only insure your house against structural damages. While on the other hand, a home contents insurance policy will cover your household items against loss and damage. For instance, if you happen to live in an area that is prone to floods, go with structural home insurance. In case your house is susceptible to theft and burglary, it makes sense to go with the cover that offers content protection.
In the event that you need both types of coverage, it is advisable that you subscribe to the same home insurance company. This will help you save on the policy premium as well save the troubles and hassles arising during claims.
Another great tip to get the best home insurance deal is to compare policies online. You can find several aggregators and comparison sites on the internet that present you with in-depth comparisons. This is a great idea to avail the best offer. Additionally, there is a high chance that you will get a good discount on the premium too. This makes it a win-win for the customers.
Next, you should ponder about something called as the 'excess'. Simply put, it is the amount that you pay out of your pocket during a claim settlement. The simple calculation here is that the excess is inversely proportional to the premium. However, this needs to be thought through as it is all about striking the right balance between the two.
You can also reduce your premium costs by installing safety equipment such as fire and smoke alarms. An anti-theft alarm is also something that's gaining popularity these days. With such precautions in place, the insurance company will reduce the perceived risk for insuring your home and will in turn reduce the premium.
Once you have finalized the policy, you can aim for the no-claim-bonus. When you don't file a claim for a certain period of policy coverage, the insurance company will offer a discount on the premium during renewal. However, this varies across companies and thus needs to be checked before buying. That's it! With the help of the aforementioned pointers, you will be able to get the most out of your home insurance policy.