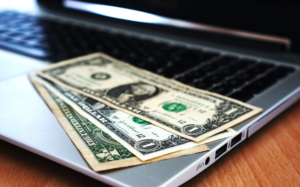 A blog is a collection of written entries that are posted on a website. There are a variety of ways to keep a blog. Some use the medium like a personal diary to talk about their daily activities while others present information like a newspaper. The point of blogging is creating content for visitors to read.
Typically, blogging is a hobby, but it can also be used to make money.
Making Income from Blogging
The amount of money an individual can make from blogging varies widely. Many barely make enough money to cover the basic expenses of running the website, while others make $1 million or more. While there are no guarantees, there are numerous benefits to having a passive income stream.
The main factor to success is the amount of traffic coming into the website. If a person makes one to 10 cents per page view, it can add up to an extra $500 to $5,000 every 30 days. Results from a survey conducted by the Problogger site indicated that 10 percent of those with income blogs made no money at all, 53 percent made less than $100 monthly, 13 percent brought in $1,000, and four percent made five figures or more. This adds up to serious money.
Income Sources
Individuals can make a passive income directly by blogging and also by taking advantage of opportunities that come their way through the website. The following describes several approaches to setting up a steady money stream.
• Advertising. This is the most common method of making money from blogging. Display ads are used in the sidebar or as a banner at the top of the page to quickly catch the eyes of visitors. They can also be placed in emails and newsletters. Direct ads are paid for by companies that are seeking prominent placement on busy websites. Contextual ads are provided by a management company such as Adsense or Mediavine and are based on a cost-per-impression or a cost-per-click model.
• Brand partnerships. Bloggers with a large following are considered to be influencers, which companies and brands can associate with to their benefit. This association consists of mentions and referrals in blog posts along with clothing, gadgets and other promotional items.
• Sponsored posts. Also known as content marketing, this is a method of creating and sharing blog posts, videos and social media messages in order to improve a company's influence and Google ranking. The businesses will often pay well to have their content posted on influential blogs. This can range from $50 to several thousand dollars.
• Affiliate marketing. This marketing approach involves the blogger recommending certain services and products on their site in exchange for a commission. Companies and brands know that popular bloggers have a loyal audience that trusts what they say and will check out products based on that alone. This costs the readers nothing and can be very lucrative for the business and the blogger.
• Selling products. One of the most straightforward ways to making money from a blog is through the sale of products. This can be for physical items such as clothing, books and jewelry or digital items like courses, premium content and memberships.
• Selling services. Being a blogger increases a person's visibility and helps them to become an expert in their field or interest. This can lead to offering paid services like making speeches, being a coach or performing another skilled service. Being good at something will also encourage other people to make an investment in the blogger and the services being offered.
How to Start a Blog
Those with little to no experience running a blog should start with a hosted service like Blogger. Aside from being free, it also features beautiful templates and the ability to connect a custom domain. Setting up a self-hosted WordPress site is also an option. This requires buying hosting and a domain name, both of which are low cost to start out.
Making a Blog Successful
This is the hard part. A person cannot just put up random content on a blog and expect to be an overnight sensation, bringing in large amounts of money. It takes time and dedication to build readership, gain trust and to fully understand how to run a blog like a business. The following tips will help:
• Find a niche. Focusing on a specific passion will bring in the right audience and make it easier to target advertising later on. It is best to choose something that already has a strong interest to avoid getting lost in the crowd.
• Be consistent. Posting fresh content on a consistent basis will keep the readership and show that the blogger is dedicated to what they are doing. In addition, keeping content up to date improves the Google ranking for the blog.
• Promote content. A blogger can be the most amazing and interesting writer in the world, but it is a wasted effort if no one knows about the site. Networking with other bloggers and using social media to promote posts will quickly get the word out.
Is Blogging Worth the Effort?
The majority of blogs die before they are one year old. This happens mainly because the person did not want to put in the effort to build up readership and work toward passive income. Having a successful blog that makes money is hard work in the beginning that pays off well later on. It also depends on what the person is looking to get out of the experience. Whether it is to supplement an existing income or act as a standalone business, having a plan before starting out will help the blogger push past early discouragement and understand that it is all part of a process.
Another consideration is the relationships, both personal and professional, that are built through blogging. Someone with a family will gain the flexibility to spend more time with their spouse and children. These factors do not have a monetary value.
In today's digital economy, a passive-income blog fits right in to most lifestyles and can provide a better quality of life for both the blogger and everyone around them.
Kelsey is the editor at LuxAuthority and is trying to balance both her budget and her credit card balance. She likes to live lavish and treat herself when the opportunity allows it. She loves the newest tech, old cars and the smell of rich mahogany and leather bound books as well!