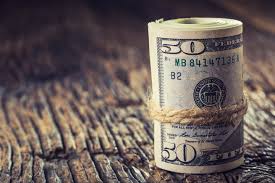 Cash in a Flash! Well, How to Generate Funds Quickly, Anyway
Short of robbing a bank (which incidentally, we'd NEVER advocate, just for the record) there's precious few ways to get our hands on a lump of cash in an instant. Or so you might think. However, there are far more legit ways to fund ourselves, which involve neither masks depicting former Presidents of the United States and/or a job lot of Mini Coopers, if we're mixing our heist movie metaphors. So, what other avenues can you venture down to put your hands on a shed load of money before you can say "This is a hold up!"
Which of course, it isn't/won't be.
Finding ourselves short of cash at times when we need it most in our life is not unheard of. On the contrary, as most of us will experience this feeling at some point in our natural, as it can happen to pretty much anyone. Scenarios which tend to create this sense of dread and subsequent cold sweat/blind panic include unforeseen car problems, unpredicted job losses and/or an undetected illness coming to bear. The question is, who do you turn to for help in your darkest hours?
Many people would suggest that you try a good payday loan lender, and there's many arguments as to why this would be amongst the best choices you could make when faced with this situation. But then you must also be aware that aside from payday loan lenders there are a number of alternative methods you could look into, all of which might be able to free up some much needed funds here and now. Below we take a quick look at just a few of these.
Cash in Your Life Insurance Policy – Not all of it, obviously. It's just that should you have been in possession of a whole life insurance plan for so many years; the chances are that you'll have accumulated a decent amount of equity that you could, hypothetically, borrow against. Understandably, if you exercise this right at this juncture, the upshot is you'll reduce the amount paid out at a later date, but on the plus side at least you won't be accountable for any taxes if you choose to cash out (as it were) right now.
Home Equity Loans – Adhering to a similar principle to the one outlined above re: life insurance policies, providing that you've paid a decent amount into your existing mortgage plan already, you could be able to borrow against the equity of your property. Reverse mortgages could also be a makeweight at this testing financial time in your life, although they only really come into play for those who own their homes outright. But as a cautionary note, it's worth remembering that both these types of get out of jail free cards come at a price. That price being both types of short term loans to yourself will need to be repaid further down the line. Failure to do so might put your home in jeopardy.
Consider Visiting a Pawn Shop – Careful how you spell/pronounce this one, but actual pawn shops (the modern, more socially acceptable version of these being the likes of Cash Converters et al) are in the business of giving you no-questions-asked short and medium term loans. And the best bit is, there's usually no restrictions placed on the arrangement of said loans or how you choose to spend the funds recruited. The flip side is that pawn shops only ever lend you a percentage of your item's monetary worth, plus they do have a habit of charging significantly high interest rates. Oh, and don't forget. If you fail to repay the loan, your possessions become the loan providers. So think on, if it's a family heirloom you're swapping for some much-need folding stuff. That said, if needs must there are worse ways…..
Cards are a Gift Horse – A recent study revealed that in the region of £300 million worth of gift cards went unused in the past few years, which is a staggering amount of money to be sitting on and not actually doing anything for you. Collectively, that is. There are various ways in which to cash in your unused or wanted gift cards too, where monetary recompense isn't quite the face value, but nevertheless better than the nothing it's generating sat in your wallet or purse.
Rent a Room out – Most people are under the wrong impression that Airbnb rentals are all about summer holidays, and homeowners who allow you to rent out their gaff whilst they themselves are away somewhere for varying lengths of time. But this couldn't be further from the truth, as a growing number of the website's listings encompass both extra and/or shared room arrangements. So, effectively, you still live in your house but allow other (rent-paying folk) to come and go. Works better of course, if you live in a picturesque area and not next to a cement works or something.