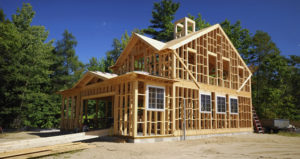 Many people consider self-building a home, rather than buying a property on the market. If they haven't been able to find their dream home elsewhere, it makes sense to build something from scratch, with all the features they have been looking for. However, you need to consider the costs. On average, it costs around $300,000 to build a home, so weigh this against the cost of buying pre-existing property on the market before you make a decision.
If building a home is something you have set your heart on, these are the steps you should take, and how they affect your finances.
1: Set a budget
You need to set a realistic figure before you begin, factoring in the cost of the land, building costs, loan repayments, and a contingency to deal with those unexpected costs. Use a construction cost calculator to give you an idea of the costs involved, as you don't want to run out of money midway through the project.
2: Find the right location
You don't want to build in an area that is inadequate for your needs, so think ahead. It is often cheaper to buy land on the fringes of a town or city, rather than the middle, so factor that into your choice. Wherever you choose, pay for the services of environmental consultants to make sure the land is safe, and free from hazardous materials and pollutants.
3: Speak to your lender
You need funding in place before the project can begin, so once you have chosen a plot to build your property, speak to your bank or another lender about arranging a construction loan. Funds will be released in stages, so you will only be paying interest on the amounts you have already drawn.
4. Know what you want
You need to have a clear idea of what you want your home to look like before you call in the builders. Your budget will dictate some of this, so speak to the experts, including architects and home designers who will help turn your dream into a reality.
5. Get planning permission
Before you start to build, you need to know that you are legally allowed to do so. Speak to your local authority for advice, and they will let you know the regulations attached to building property on the land you have chosen.
6. Factor in the hidden costs
Have a look at this article that will give you an idea of what to expect. There are costs you will expect to pay for, but it is good to be prepared for hidden and extra costs before building work commences.
7. Begin building
Should you choose a building firm, be sure to find somebody reputable. Be wary of those offering lower prices, as you don't want anybody cutting corners on your project. There is some helpful advice here on keeping costs down in the construction process, whether you hire contractors or take on the building work yourself.
8. Enjoy your home
Finally, you will be able to enjoy your home, and spend whatever you think is necessary on the finishing touches. You could create the perfect home for you, or add value to sell later on. Enjoy.