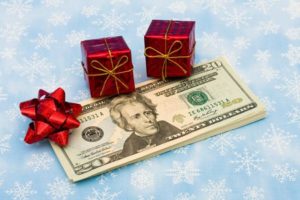 Christmas is only a couple of months away, and many people are already way into their Christmas shopping. But the real task is budgeting for your perfect Christmas as well as making sure you enjoy the festive season as much as possible.
Work Out What You Can Afford
Before you start planning all of your decorations, food and gifts for everyone you know, first take the time to sit down and look at what you can realistically afford. Think about it this way- Christmas is only one day a year. You don't want to splash out on 24 hours and regret it for the next year. Be smart and think about how much expendable income you have saved for the festive season.
Stop Buying Unnecessary Presents
Sure, Christmas is a time for puzzle games and silly gifts; but if you are trying to save up and stay smart with your finances, it's not really a great idea to buy 10 whoopee cushions for your friends. Stick to presents you know your loved ones will love.
Or, if you really hate the idea of not being able to be a bit fun- give yourself and your friends a small budget to stick to for silly presents. Maybe even arrange a secret santa
$100+ in time for Xmas
Yes, that's right. You can bag yourself some extra cash for the festive season by simply switching bank accounts. Make the switch and get yourself a nice little bonus to go towards your festivities.
Supermarket Saving Stamps
Supermarket saving stamps schemes are used to help families save up for Christmas throughout the year to cut the bow at the end. However, if you are smart about it you could get an extra 4% bonus on your savings in time for Christmas. If you add in a large amount to the card at once, the supermarket will give you a bonus. So pay in, get your extra cash and spend on all of your winter essentials.
Christmas IOU generator
As many of you will know, during December the price of even the simplest item can sky rocket. However, in contrast the prices drop in January. So if you are trying to save up for something big such as a TV or Games Console, just wait for it. Yes, it might mean that the kids are opening an empty box (or a cheaper gift in the meantime) on Christmas Day, but it will save you a huge amount of money in the long run.
Black Friday
When you think of Black Friday, you may have visions of riots in the street and carnage at the supermarket…you wouldn't be wrong. But you don't have to step out into no man's land this November to bag yourself a bargain. Instead, shop online. Sites such as Amazon run week-long events for Black Friday and chop the prices of products by anything up to 80-90%. If you are waiting for a game or DVD release, hold out for Black Friday because the likelihood is that a deal will come on for it.
Sell Your Old Stuff
Out with the old, in with the new. And money goes straight into your pocket ready for the festive season. We get a lot of things around Christmas, and often it can be difficult to move in a sea of gifts for the week afterwards. Get onto GumTree and sell some of your old things to make room for the new stuff, it'll also mean a nice financial bonus for the festive season.
Home Or Away?
Although staying at home is the obvious choice for most of us, you don't have to spend Christmas in your house using up all of your own electricity and water. Why not club together as a whole family and rent a lovely cottage or apartment from a site such as Meriton? It will be exciting for the whole family and means that you all club together for a great holiday and amazing memories.
Avoid Expensive Turkey
Now, of course turkey is the star of the show for your Christmas Dinner, but to be honest, you don't need to splash out for the most expensive brand to get a good quality bird. Try swapping out your usual choice for a lower brand option, you probably won't even notice the difference!
And there is another option… you could eat a different meat.
'That's sacrilege!' you say- but it is well known that stores will hike up the price of turkey through the winter months because they know people are willing to pay for it. But actually, not everyone likes turkey, and a great alternative would be a beautiful joint of roast beef.
Consider the Risk of Gift Cards
You might think that getting someone you don't know very well a gift card is much better than buying them a gift that they won't like, and that can be the case. However, sometimes there can be a few risks with opting for a gift card over money.
• Big Retailers can go under. It's happened before, and it could happen again. When a retailer declares bankruptcy, they will stop accepting gift cards as payment.
• Expiry Dates – always check that there is a good amount of time for the recipient to use the card.
Kids Don't Care
If you have children, you'll know that you could buy them the most expensive and elaborate toy for Christmas and they will still play with the box. Children don't care how much you've spent on decorations, how many presents they have in front of them or whether you've bought a budget turkey. For kids, it's the magic of Christmas and the thought of Santa visiting which makes it special.
So save up your cash for a rainy day and keep it simple. Put out a cookie and a carrot for Santa and his reindeer, read them a bedtime story and sleep safe in the knowledge that you can have a perfect family Christmas without spending all of your savings.