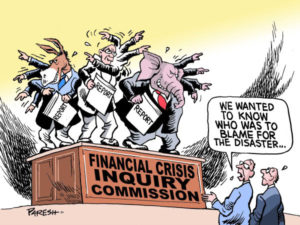 It is not unusual for family finances to take a tumble and for everyone in the family to get concerned about how you are going to get through it. Many things can trigger a very sudden financial crisis. In many cases, it is a business failure. Many new businesses fail and they can take all of the money that you have invested in the ventures with them. On other occasions, it is a gradual decline and you have been throwing good money after bad for years. Perhaps you even saw the crisis coming but chose to ignore it.
At other times, it is a job loss that triggers the crisis. Most families can survive a redundancy or a job loss of one wage earner if there is another wage earner that can support the family for a few months. However, if there is only one wage earner, a job loss can throw the whole family into financial turmoil.
For many families, it can be an unexpected expenditure or an accident or ill health that triggers a financial crisis. Perhaps you had a car accident or an accident at work and you can no longer earn the money that you used to. If the accident was not your fault, you may be able to start a personal injury claim and it is worth looking into that. You may even be able to get an interim payment of compensation to help you get by. Sometimes it is a big purchase that tips the family finances over the edge and it can be hard to get them back on track.
There are only two ways to get yourself out of a financial crisis. You either need to borrow or earn your way to financial security. Here are a few ideas to help you decide which is best for you.
Keep your outgoings to a minimum
You need to get a clear picture of how much you have to earn or borrow to get by each month before you can put a plan together. There will have to be some cutbacks in your family budget in the short-term. It is important that everyone participates in the savings so sit the whole family down and explain to them that you need to tighten your belts for a few months.
Start by listing everything that you pay out for each month. It is useful if you have your bank statement in front of you when you do this. List the large outgoings first. These are usually the items that you can't avoid paying out and include the mortgage or rent, car loan and utility bills. You even have to list the minor items such as children's activities and the takeout coffee you have every morning.
Try to work out which ones you can do without. Try to negotiate a rent or mortgage reduction for just a few months and agree to make up the shortfall once your finances improve.
Luxuries will have to go! Eating and drinking costs a lot and is a luxury that you can do without for a month or so. Try a takeout instead or save even more money by making your own. Healthy, home-prepared meals take a while to make but save you a lot of money and do you good!
Borrow what you need to get by
There will be occasions where you need to get hold of money fast and you will not be able to wait to earn yourself out of trouble. Quick loans give you the cash that you need when you need it. Everything is done online and there are hardly any forms to fill in so the process is much quicker and streamline. There is a credit check involved and there is a huge variety of lending options so you can always find the loan that is just right for your circumstances.
If you have fallen behind on your mortgage repayments, the last thing you should do is ignore the letters demanding money. It is important that you contact the company quickly and sort out a repayment schedule that is manageable.
Borrowing what you need can give you peace of mind and free up your time to get on with what is important which is finding another permanent source of income.
Find a new source of income
Obviously, your ultimate aim is to find another permanent job or to get another business up and running but this can take time. Dig out your CV and give it an overhaul. Refresh your personal statement and update your qualifications. Then start sending it out to potential employers.
In the meantime, it may be possible for you to take on a part-time job to help out with bills. There are always retail jobs and positions in catering and hospitality available. Could you do some babysitting in the evenings or sell some things to raise some cash?
Whilst you are finding it hard to manage financially, you must check that you are receiving all the benefits that you are entitled to. Check out with your local authorities or go online to find out more. There may also be welfare organizations that can help you.
If you have a spare room in your home, it may be possible for you to take in a lodger. The rent will help towards the cost of the mortgage and they will chip in for the household expenses such as gas and electricity.
You could also look into earning some money from home. Many people make good money working from their bedrooms! You just need an internet connection and a laptop and PC. You could work as a website tester, an administrative assistant or even as a freelance writer. There are literally thousands of jobs available through sites like Guru.
You do the jobs in your own time and so you will always be available to attend that important interview to get your new full-time job.