By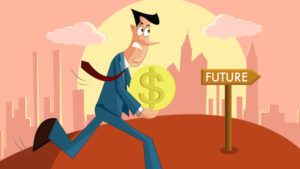 When you're in your 20s, you feel like your whole life is ahead of you, you may have just got out of college, so you feel like you owe it to yourself to relax for a while and take everything in your stride. However, the issue for a lot of people in their 20s is that they don't put money aside. A GO Banking Rates survey found that 44% of people between the ages of 18 and 24 have no money in their savings accounts or don't even have a savings account! And while it's important to make the most of life when you're young and exuberant, but there are some things to begin thinking about now.
Start An Emergency Fund
The fact of the matter is that there will be financial issues that crop up from time to time that you are ill-equipped to deal with. You may end up having an accident and are faced with a medical bill you are unable to pay straight away. And there could be many potential issues that arise that could affect your ability to work, and while making an injury claim is all well and good, it's not something you can bank on to get you a huge pile of cash. So make sure you start to find ways to stockpile money from your existing earnings. The best way to do it is to set up a transfer, so the funds out of your bank accounts on the same day every month to go into a savings account. That way you don't need to think about it. And it doesn't necessarily need to be a huge amount of money either, whatever little amount you can put away will be of some benefit.
Prepare For Retirement Now
If you started saving for your retirement in your 20s, as opposed to later in life, you would end up saving more in the long term, but you can also put away less money during your 30s, 40s, and 50s because you tend to have less financial obligations. Let's do the math, someone who is 25 and saves at $700 every year will have saved $28,000 by the time they are 65. Compare this to someone who is 35 and just started saving, they will have only saved $21,000 and will need to save that bit more to catch up.
Go For The High-Interest Bank Accounts
Common sense prevails in this, the more interest in a bank account, the more money you will be able to save. And not just this, but there are savings accounts you can take advantage of, such as Certificates of Deposit (CD) accounts, money market accounts, as well as traditional savings accounts.
Get Investing
The final point to make when saving money in your 20s is that it can be very difficult, especially if you work a low paid job and are barely making ends meet. You may want to think about a type of investment that can pay out on a regular basis. While savings bonds, peer to peer investments, as well as real estate are common methods, you may want to start thinking about other approaches to investments, such as gold bullion, or even Bitcoin. Having a decent amount of knowledge in terms of investments will give you that extra bit of money you will need to set yourself up for a life without financial struggle.