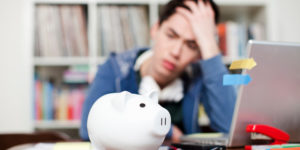 Despite all their partying and endless nights of fun, college kids actually have it rough – financially speaking, anyway. It's a tough period as students have a lot to pay for, and not a lot of money to pay for these things.
As such, if you're a student, here's some of the best financial advice you'll ever read:
Make As Much Money As You Can
The grind never stops – or at least it shouldn't stop – during your college years. Any opportunity you have to make money, take it! You will need money now more than any other time in your life. If you're earning while in college, you can start paying off some of your student loan debt while you study. This lowers your interest rates and means you have less to pay when you graduate. It's also mentioned on businessinsider.com that the earlier you start to pay, the faster you can pay your debt off. Plus, it's always handy to have some disposable income for college essentials.
Find a part-time job in the town near where you're attending college, or look for jobs around campus. Some final year students will often pay other students to take part in research projects or to be test subjects for them. The way I see it, this is basically free money for a student, so you should do it!
Raise Your Credit Score
College is usually a good indicator that life is getting serious and it's time to do some adult stuff. One of those things is raising your credit score. Do this during college, and you can leave with a very good score that opens your world to many possibilities.
You can raise your score in various ways, but there are two main ways a college student can do this. The first is to use a credit card responsibly to build up your creditworthiness. It's mentioned on studentcredit.cards that some companies offer credit cards with low-interest rates specially for students. The second thing you can do is avoid going into your overdraft and taking ages to get out of it. This doesn't make you seem very creditworthy, and your score won't grow.
Learn How To Budget
I'm going to go out on a limb here and guess that most people haven't budgeted before they go to college. You don't really have any need to before then, your parents tend to take care of everything. Now, you're on your own, and you have expenses to pay, and you want a social life too.
So, you have to learn to budget your money. Do the math, work out how much you have, how much you need to spend, and how much you've got left over. The money you need to spend is essential payments you know you have to make, such as your tuition fees and accommodation costs. What you have left over will be split up into food money, toiletry money, and so on. Stick to your budget, and you will make it through college without much financial trouble.
Don't become one of the many college students that manage their money badly. Work on improving your financial life while you study, as well as setting yourself up for a less stressful financial life after college.