By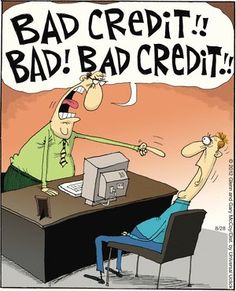 It's a sickening feeling. You have never had trouble with credit in the past and have not had problems accessing a loan. Then, one day, after you've spent time filling in an application for a loan with the bank, a letter or email arrives telling you that you do not meet its lending criteria and that, regrettably, it has declined your request.
For some, being turned down for credit is a shock but not a major disruption. But for many others who had banked on accessing credit to fund a new car, carry out home improvements or consolidate other loans, being turned down by the bank isn't just embarrassing, it can throw their lives into turmoil.
If this is you, then you're in good company. Up to one third of all applications for credit in the UK were turned down in 2014, most of them by the mainstream banks. For many hundreds of thousands of ordinary consumers, that wasn't because they were reckless with money or had failed to make good on debts in the past: it was simply because they didn't meet the banks' more rigid criteria that emerged in the aftermath of the financial crisis.
Happily, there are now a growing number of alternatives for borrowing for people who can't get hold of the money they need when they apply either to their bank or other mainstream lender. Despite being rejected elsewhere because they have a bad credit rating, millions of people now have access to loans from the burgeoning market in these types of loans. Although some of these types of loan come with higher interest rates and lower total capital sums, there is a good chance that you will be able to borrow the money that you need despite having a bad credit rating:
Personal loans
Thought you would not be able to get an unsecured personal loan because the bank's computer says 'no'? Think again. Many lenders now have products that are designed for people with poor credit ratings so if you've been declined by your bank or somewhere else, you may still be able to borrow a substantial amount of money without having to offer some form of security.
Personal loans for people with bad credit ratings tend to have higher higher interest charges than those offered to people with excellent credit ratings and the sums on offer may also be a little lower. As part of responsible lending policies, these lenders will still carry out credit checks and affordability assessments but these criteria are usually a little more relaxed than those undertaken by the major banks.
Homeowner loans
If you own your house and it is worth significantly more than you originally paid for it, then there's a good chance that you will find an organisation willing to lend you a significant sum of money. A whole raft of new lending organisations now offer homeowner loans for sums that range from £5,000 all the way up to £250,000 and beyond. It all depends on how much equity you have in your property.
The loan is secured on your house meaning that these types of products are not available to tenants or those in shared ownership schemes. It also means that should you fail to keep up with the repayment schedule, the lender could repossess your house.
The big advantage with homeowner loans is that the interest rates are generally lower than those that come with other forms of bad credit funding. That said, the interest rates may be variable so might change throughout the term of the loan leaving you unable to make repayments should your circumstances change.
Guarantor loans
If you can't get a personal loan and don't own your own home, your options become more limited but it is by no means impossible to secure the money you need. Guarantor loans are a rapidly-growing part of the market and work because they open up borrowing to people who don't have a good enough credit rating to borrow money on their own. These types of loans are based on the principle of somebody else standing as security to guarantee your loan repayments. That person could be a relative, a close friend of somebody at work who knows and trusts you enough to take on this responsibility. While the very large sums that are offered with homeowner loans are not available, it is still possible to borrow up to £12,000 with a guarantor loan.
Credit unions
Prior to the explosion of the UK consumer credit market and the arrival of big international financial organisations, the building societies were mutuals – owned by their savers and borrowers. Credit unions are similar and are owned entirely by and for the benefit of their members. They serve local communities up and down Britain and are in the business of offering loans to members by using the capital held on deposit on behalf of those who save with them.
Interest rates on loans offered by credit unions are usually a bit lower than bad credit loans although some of them will insist that people wanting to borrow money from them save a small amount first. Although this is still a growing area of the UK's financial services market, credit unions are offering larger and larger personal loans with some advertising up to £4,000 with repayment periods of seven years.
Article provided by Mike James, an independent content writer in the financial sector – working with a selection of finance companies, including Solution Loans – who were consulted over the information contained in this piece.