By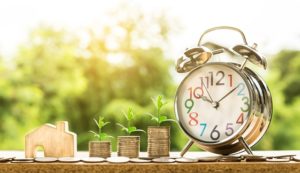 When you think about your monthly budget, some non-negotiables take priority: mortgage, food, utility bills, insurances and your kids education. However, once you have accounted for these necessities, you may find yourself in the fortunate position of having some spare cash. If you are financially astute, you may park this money in a savings account to accrue over time. This is the safest option and requires minimal risk on your part. However, as your cash begins to stack up, you may find yourself wondering whether your increasing stacks of cash are working in the most effective way for you.
One major alternative to a regular savings account with a bank is to test your resolve on the property market. Investing in bricks and mortar has paid dividends for many over the past few decades. Lucrative returns can be had in the short term if you are quickly flipping a house, and also in the long term, if you are building up a rental portfolio. Take a look at these tips to help you decide the sort of property investment that you may be tempted to make.
Research Like You Have Never Researched Before
Although you may be impatient to see some of your hard earned money invested in the realm of property, it's vital that you understand the styles of property that are in demand. If you are thinking of purchasing an inner city dwelling, the chances are that apartments and penthouses will cater for the needs of young professionals, with their lack of gardens and low maintenance requirements. If you are opting for the land of suburbia, you may want to consider larger townhouses and condos that will accommodate wealthy families, that are spacious and located within highly regarded zip codes.
If you are tempted to try your hand at purchasing a property to renovate and sell on quickly, ensure that you purchase the worst house on the best street and not the other way around. You can always alter a property by bringing in a team of tradespeople and renovating it, but you can never upgrade where it is.
The Rental Option
If you are going to dabble in the property market for the long haul, you may wish to let your investment. You'll need to do your homework and make sure that the rent you receive each month covers the mtal-ortgage that you have taken out to purchase the property. Try and buy somewhere close to other rental properties. You may want to look at a location close to a university to attract students or a hospital that may appeal to doctors or nurses working nearby. If your property is close to good transport links and is easily accessible, it will appeal to more potential tenants.
You may be worried that you could end up leasing your freshly painted and coiffed property to nightmare tenants who refuse to pay their rent resulting in you getting into financial difficulties. Don't worry. Use a credit referencing agency if vetting your tenants yourself or pass this responsibility over to a specialist letting agent who'll take care of it all. For a small percentage of the rent each month they will manage your property, take care of maintenance issues and deal with any problems as and when they arise.
Investing In Property For Your Family
You may disregard the idea of flipping or letting a property altogether. Instead, you may be keen to upgrade your current home and take a few extra leaps up the property ladder. You might even be keen to build your very own dream home totally bespoke to your family. You could opt for an eco-home, a waterfront property or one of the many mansions designed by Playoust Churcher. The architect you choose will create your dream home designed and built specifically for you. By investing in property this way, you are enjoying the fruits of your money, as well as ensuring that you have a humble abode that will increase in value if you come to sell it at any point in the future.
If you have extra money each month, you can, of course, build up your savings for a rainy day. However, if you want to see greater returns on your investment, it pays to consider either purchasing a second property to rent or to flip and sell on quickly. You could also think about building your own dream dwelling. You never know, if you clue yourself up on potential locations, housing types and property market forecasts, you could be at the embryonic stages of forming your very own property empire.