By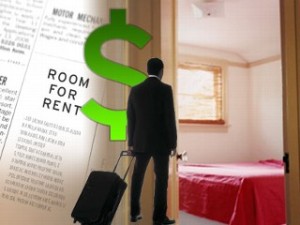 "Having a lodger" or "taking lodgings" are phrases that bring to mind the Victorian era, when widowed ladies rented out rooms in their city homes to single men and women. Though private homes and apartments have since become the norm, the idea of renting a single room in a private home has been steadily increasing, due in part to the difficult economy. For homeowners, the idea of renting out a room has become more and more appealing, so much so that the number of private homeowners renting out a spare room in their home has more than tripled in the past year.
Financial advantages of renting out a spare room
The extra income generated on a monthly basis is one of, if not the, main reasons that people choose to open their homes to a stranger. The amount of rent being charged for a room will vary depending not only on the size of the room and its amenities, but also on where the home is located. A bedroom with bathroom and kitchen privileges may run around $200 per month while a room with a private bathroom en-suite or possibly an efficiency layout with a small refrigerator and microwave could run as much as $500 per month. The type and amount of furnishings, as well as the utilities included will also affect pricing.
Renting out a spare room also allows the homeowner to receive a break on their income taxes by deducting part of their home ownership expenses. Real estate taxes and home mortgage interest are two areas where dividing the property into effectively two homes can save when it comes to tax time. Deductions may also be taken for general maintenance, expenses and repairs to the home, including utility bills and repairs to appliances, as long as these are available to the entire home. Installing utility services directly to the room being let may also be deducted, for example the installation of a cable or phone line.
Financial costs of renting out a spare room
Choosing to rent out a room in the home means the homeowner may have to invest before the profits roll in. The room needs to be properly and simply decorated with a sleeping area the primary focus and a seating area a close second. This may mean carefully selecting furnishings and investing in pieces such as a sleeper sofa or a built-in Murphy bed that are both functional and attractive. Room design and décor may need to be quite different in a rented room than it would be in the rest of the home, with furniture choices and layouts more like those in a studio or efficiency apartment than in a traditional bedroom. The homeowner can save on the furniture by watching for sales and taking advantage of free delivery if available. Neutral color palettes and wood furniture pieces are universally appreciated and allow the tenant some leeway to express themselves and their style by adding accessories and personal items.
Other financial considerations include legal expenses, such as credit checks on prospective tenants and extra home insurance reflecting the new rental status of the property.