By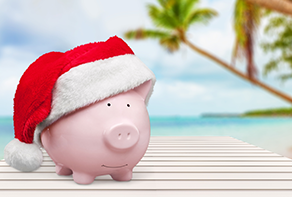 "Isn't it a little bit early to think about Christmas? It's not even been Halloween yet…"
Okay, so we'll acknowledge the fact that that's a legitimate complaint. Christmas seems to come earlier every year and this article isn't helping that. However, there's no denying the fact that for people who focus on the health of their personal finances, Christmas can be a testing time. That's why it deserves focus this early on, even if it does feel strange to be contemplating buying gifts and decorating your home when the leaves have only just begun to change.
If you begin now, you have an early start on your Christmas preparations, meaning that you can survive the festive season with your financial state intact. There are four key questions you need to be able to answer, and then you can forget about Christmas until December.
Who Do You Have To Buy For?
Try and keep the list small, if you're going to be financially responsible. Family members usually go to the top of the list. If you have a big family, then time.com have some great tips on how to keep it affordable.
Friends are more difficult, so it's often best to just ask if they want to swap gifts, or would everyone prefer a get-together around Christmas in lieu of actual gifts. You're unlikely to be the only one of your friendship group worrying about money, so it's always worth venturing the idea.
How Much Are You Going To Spend On Each Person?
This decision is largely personal, depending on your financial circumstances. However, there are a few universal things you need to keep in mind:
Set yourself a budget per person and don't exceed it; there will be something you can find within budget, if you're willing to look hard enough to find it. Christmas gift guides will explode online in the next few months, so scan through them and see what might work. There's no point setting a budget if you're going to break it — plan to be very stringent with yourself, keep the numbers amenable to your financial circumstances, and be willing to hunt for good deals.
What Can Make Christmas More Affordable?
Obviously, saving for Christmas is the best way to make it affordable. However, if you haven't saved anything yet, then it's unlikely you're going to be able to put away as much money as you need in time for December.
If that means you're going to have to borrow to fund some of your Christmas frivolity, you need to make it as affordable as possible. Look through creditrepair.co to see how you can reduce the cost of borrowing, and move any existing debts onto low-interest repayment plans. Combine this with a little extra saving for the next few months, and your personal finances should come through the holiday period unscathed.
With the above answered, you — and your bank account — can look forward to Christmas, rather than dreading the financial toll it may take!