By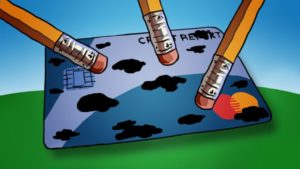 In the modern era, just about the entire economy is built around credit. While many people think of credit and debt as inherently scary things, the truth is that most people find them to be incredibly useful. Whether you're applying for a mortgage, buying a car, or paying for something on your credit card, your credit score is both affected by everything that you do and impacts what you're able to do. However, a lot of people struggle with how they can go about improving their credit score. For something so important, it's shocking just how many people don't actually know how to go about improving it. With that in mind, here are some things that you can do to get your credit rating out of the red and into the black.
Consolidate your debts
Debt isn't necessarily a bad thing when it comes to your credit rating. After all, being able to borrow money and show that you can pay it back in full and on time is one of the very best ways to building up a decent credit score. However, having a lot of debt from different creditors can have a pretty negative impact on your credit score and can make lenders much less likely to trust you with their money. Sites like consolidated.credit can help you to consolidate your debts and combine them into a single monthly payment. Not only can this improve your credit score but it can potentially help to reduce your monthly outgoings significantly.
Reduce your spending
One of the biggest issues for a lot of people is simply that they fail to pay close enough attention to how much they're spending. Sure, you might not spend large amounts all at once, but it's the little purchases here and there that actually make all the difference. It's incredibly easy for those purchases to add up and before you know it you're spending far more than you can actually afford. Ending up in your overdraft every month is a surefire way to wreak havoc with your credit rating and leave lenders highly reluctant to do any dealings with you at all.
Speak to the experts
Sometimes your financial situation can be so bad that it feels like you can't deal with it on your own. If that's the case, then don't panic. There are plenty of organisations and debt based charities that can help you to manage your finances better and help to provide you with plans to pull yourself out of debt and improve your credit rating. Remember, no matter how bad things get, there are always ways to pull yourself back out and take back control of your finances.
Improving your credit rating isn't necessarily going to be something that you can achieve right away. There's a good chance that it's going to require a good deal of discipline and patience from you. However, it's important that you hold onto it because it's simply too important to ignore. There are so many things in life that you cannot do without decent credit.