By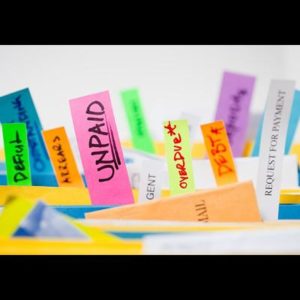 Freelancing is becoming an increasingly popular way for people to make a living. With the freedom to choose your own hours, who you work with and a bigger share of the profits – what's not to love?
Many freelancers find themselves struggling to manage their finances, with bad habits that can be hard to break. Want to take control of your self-employed earnings? Here are five new year financial resolutions for freelancers.
1. Prove you're a professional with a business account
A business account may seem like something that's unnecessary unless you're earning the big bucks, but even freelancers on a small income can benefit from having a business account. There are many reasons why you need a separate account for your side job or freelance business, but mostly it will make your life easier. Make it easier to manage your finances by being a professional with your business.
2. You will start keeping better track of invoices and payments
Your earnings can be unpredictable as a freelancer, and while the majority of your clients will pay you on time, there's always the danger that some will be late with their payments or worse – not pay you at all. Start working out a good cash flow system that helps keep you out of trouble and allows you to manage your income and outgoings better. Get on top of when payments are due and start imposing penalties on those who don't pay up on time.
3.You'll manage your taxes better
The end of the financial year can be a dreaded time for freelancers, especially if your paperwork is all over the place. You can keep better track of your earnings and outgoings online. Make the most of tools that are available such as a generator for your 1099 form 2017 that can help make it easier to file your return at the end of the year. When working as a freelancer, you can never be too organized, so make it your mission to keep on track in the new year.
4. Start protecting your earnings
With freelance work, nothing is certain. One month you could have several well-paying clients under your belt and the next you could end up with none. It's time you started planning for those quiet periods by having a good pot of savings you can dip into if the worst were to happen. There are other ways you can protect your earnings that will help you be more confident in dealing with difficult financial periods and help you to protect your future.
Knowing your finances and protecting your money will be important for getting approved for a home loan if you are still renting. Mortgages for self-employed workers are handled differently than full-time salary workers and require extra attention.
5. Don't accept less than what you're worth
When you first start out as a freelancer, it can be tempting to take on jobs that are badly paid, or not even paid at all. This kind of behavior not only hurts you but others in the industry too. You deserve to be paid the fair amount for your services, so start getting into the habit of charging what you're worth. Always agree payment upfront to avoid any difficult conversations when it comes to billing time.
It's good to have goals for the new year, and as a freelancer, you should always strive to be better. Give your finances the attention they deserve and start taking better charge of your earnings in 2018.