By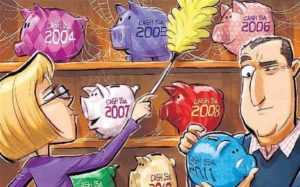 Saving for our future is one of those things we all know we should be doing. However, whether we actually get around to it is another point entirely. It is so easy to just put off sorting out for another day. But when the time comes for you to retire, you will need to have some kind of plan in place for your next steps. Chances are you will have been putting money into a pension scheme in addition to the workplace pension you will be entitled to receive. But, what do you do if this isn't enough to tide you over? With other financial issues looming over us as we approach retirement age, such as whether you have the best life insurance policy, our retirement funds should be the least of our worries. If you are thinking about investing your pension fund, don't rush into it. We all want to enjoy our retirement, but make sure that whatever you are investing your money in is right for you.
Property investment
Real estate is quite literally hot property these days. If you're looking to invest your pension somewhere, look no further than the real estate sector. The best way to go about this is by acquiring property through a real estate IRA. This way, you open yourself up to unique investment opportunities and you can be sure that you are putting your money into a secure asset. It also has the added benefit of being able to rise in value, which is perfect for if you are hoping to pass the property down generations. You also don't need to be restricted to houses or apartments when investing with an IRA. You can also claim farmland or holiday resorts, or commercial property such as shopping malls.
Stocks and shares
The stock market might initially seem like a bit of a daunting minefield. But, it could be the perfect place for your pension to go if you have chosen to self-invest. In fact, in provides a great opportunity to protect against rising inflation and bring in higher returns than cash and bonds. You can go into 'direct investment' into the stock market via a stockbroker. This essentially means that you buy shares in a single company, which makes you what is known as a shareholder. If you want to minimise the risk associated with investing in stocks and shares, instead consider investing indirectly. This way you can invest your money in a number of different companies rather than just one.
Precious metals
This may appear unusual at first, but precious metal investment has soared in recent years. They are a hard investment, which means that they are also hedged against inflation. If you are looking to invest in precious metals, you will need to comply with the rules and regulations set up by your pension account. Gold, silver, palladium and platinum are all approved by IRA accounts. You will need to purchase the metals yourself through a dealership, and then keep them in an approved depository.