By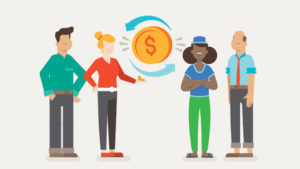 Peer to peer lending has become a phenomenon throughout the world in a very short time Due to the many variations of this practice throughout the world it can be confusing to people when this subject is discussed. Each country or region has its own laws, attitudes and customs in this area and they can differ significantly. So, if you are interested in peer to peer lending as a borrower or lender, or just want to study the topic some more, then read on!
What are some of the differences in meanings for the term peer to peer lending? In many countries, particularly those that are more advanced, technology plays a larger role. Lending and peer to peer investing platforms are online and bring together lenders and borrowers from all over an entire country. Investors do not know the individual whom they are lending money to and only see an online credit profile with which to make their decision. These platforms engaged in hundreds of loans each day. They also process loan applications, check credit of the borrowers and collect payments. These are large, and in some cases, publicly traded companies.
On the other hand, in some countries peer to peer lending is more local and personal. The lender will likely meet the borrower and they will develop a relationship. These relationships can ultimately result in several loans and the trust that allows a borrower to get more money if they have been faithful in their payments.
In some countries, the purpose of peer to peer loans is mostly to pay off credit cards or refinance existing debt. In other places, these loans may be more likely used to start a small business or pay unexpected medical expenses. There are also many other reasons to take these loans and more personal relationships allow the lender to assess the needs of the borrower and the likelihood that the loan will be repaid.
The laws of the land also play a big factor in how these loans, platforms and relationships work. Privacy laws may limit the types of information that a lender can know about the borrower. For example, a loan request for medical expenses may not include details about the borrowers specific medical issues. Credit reporting and bankruptcy laws also vary by country which affects the information available to lenders and may make is harder for them to assess the viability of certain loans. In areas where lender and borrower meet, the personal appeal and information provided by the borrower can go a long way in convincing the investor to make the transaction.
As the world has seen rapid adoption of this type of loan over the past ten years, the number of platforms and models has grown dramatically. Also, governments have scrambled to make laws protecting both borrower and investor. While there have been some issues, for the most part this type of lending has been highly effective for both parties and the future seems bright. Experts expect the outlook to continue to be good and growth forecasts indicate the market will continue to increase significantly.