By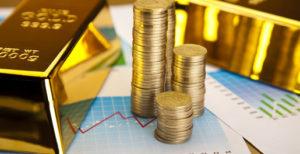 In uncertain economic times, having gold on hand is a surefire way to liquidize and protect your assets. Even in a stable economic environment, gold is a safe haven asset that will never fail you. This is because gold's value increases instead of decreases in direct relation to the decline of value in paper investments, such as stocks and bonds.
To minimize or even eliminate a fall in portfolio value during economic collapse it's best to invest in uncorrelated investments. What this means is that you want to own assets that will move the opposite way of other investments when economic times become uncertain. Gold is one of the few guaranteed investments that are uncorrelated to many other investments. This makes it a very safe investment that has proven to remain positive when stocks fall.
This means that allocating some of your investment to gold is a sensible and solid choice. However, the buying of gold bullion is not always as straightforward as one would hope. There are plenty of precious metal dealers who will gladly take your money without having your best interests as a customer at heart. To avoid falling for an unscrupulous dealer, you'll have to do a little research into finding the best dealer so you can purchase gold with confidence.
Online vs. Local
In general, there are two main ways to buy gold: online or locally (in person).
Local precious metal dealers can be found in cities around the world. However, brick and mortar stores will often come with a lot of overhead. This is due to rent, paying employees, security, and more. This added overhead and the fact that local gold dealers often have lower sales volume means that they will often have to charge more for gold bullion to make up for their costs.
On the beneficial side, a local gold dealer will mean that you will be able to physically inspect the bullion and take immediate possession of it when you purchase it.
Local dealers also have more of a reason to care about their reputation in the immediate community they serve, which may translate into higher quality of service when dealing with them.
Also, if you're only buying small quantities of gold and you're paying for it with cash, your purchases at a local dealer might not be reported to the tax authority and can stay confidential. If this is something you are considering, make sure you discuss it with your dealer to make sure you stay below the threshold for reporting.
The other option for purchasing gold bullion is through an online dealer. Online dealers typically do more business and will have higher volumes of sale and much lower fixed costs. This means that you can often find good gold bullion at a solid discount online.
Online dealers will have a much more varied range of products in stock and many even offer convenient buy-and-store programs that permit you to purchase the gold bullion and then keep it in an insured and protected location made available by the dealer. This can be very beneficial since storing your own precious metals can be risky.
Some people are nervous buying bullion online, since it is such an expensive product. However, if you are able to find a dealer with a long, solid history and positive reviews, you will most likely be in good hands.
Unfortunately, buying gold online means that you will have to pay for shipping and handling costs (which are not cheap when it comes to materials of this value), and you will have to wait to physically take possession of your gold. Some online gold dealers like Lucius Precious Metals offer free local delivery for orders over a certain price point, which can be something to consider if you're in the area.
What to consider when buying gold for delivery
If you are purchasing gold online and looking to have it delivered to you, you'll want to consider a few things.
First, you want a dealer that has a strong and solid reputation and years of reliability. Read customer reviews and check out investment forums to make sure your chosen dealer doesn't have any shady reports out on them.
You also want to make sure that the dealer sells only gold coins and cold bars from LBMA-approved wholesalers. This is your best guarantee that you will be purchasing authentic coins and bars.
You'll also want to check out the dealer's premiums on bullion. This can vary widely throughout the industry and is not a set-in-stone number. Lastly, check out the difference between buying and selling prices on the dealer's site, which can be as high as 10% or more.
To maximize your long-term profits, you need to work to find a dealer who is reputable and trustworthy and offers low premiums.
What to consider when buying gold for storage
If you're buying gold for storage, you still want to check out a dealer's reputation, bid-ask spread, and other factors mentioned above, however there are other factors that come into play when buying gold for storage.
For one, you'll want to examine the storage facilities where your precious metals will be kept.
Gold bullion should be stored with a reputable, separate entity so as to reduce counterparty risks. Ideally, you're looking for an LBMA-approved vault provider like Brinks. These types of companies store gold reserves for massive financial institutions and government bodies. This assures that your gold is being stored in a secure environment.
When storing gold, make sure that your dealer offers insurance that will cover the full replacement value of your coins or bars in the event that something were to happen to them. Full replacement means that you will get back the physical equivalent of the gold lost, and not just the cash value—which is based on the spot price of the metal.
You'll also want to make sure that your gold is fully allocated to you. This means that it is held in your name, you are the outright owner, and the gold can be made available for delivery or sale at any moment. Unallocated gold bullionis shared by investors who own an interest in the bars, which raises all kinds of liquidity issues that we recommend avoiding.