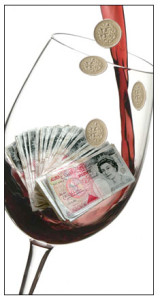 On January 28, Bloomberg published an article focusing on the Bordeaux 2010 vintage which will soon start hitting the retail shelves and which, being recommended by winemakers, is bound to attract the attention of people who invest in wine.
The 2010 Vintage
The author of the piece, Elin McCoy, attended a wine-tasting at which110 top Bordeaux producers presented their reds and whites from the 2010 vintage. Ms McCoy noted that while the quality of the 2010 vintage was exceptional formany chateaux, the futures prices were so high that therewas likely to be stock languishing in warehouses, especially given that a lot of Bordeaux lovers filled up their cellars with the 2009 vintage.
As noted in an article by the wine magazine Decanter, entitled "Bordeaux 2010 report: Fatigue, readjustment, and a missed opportunity", the2010 vintage has been hailed as the second-most successful vintage of all time, 2009 being the record-breaking best, 2005 in third place.
Winemakers' Choice
Yet Ms McCoy noted that,while the winemakers she interviewed insisted that both 2009 and 2010 were great vintages, they preferred their 2010 wines. "The 2010s are more electric, more detailed, like high-pixel images," according toAlexander Van Beek, general manager at the commune of Margaux, as quoted in the Bloomberg piece.
Decanter consultant editor Steven Spurrier also enthusedthat the 2010 vintage "is looking like THE greatest Bordeaux vintage, so far, and, contrary to expectations, not tiring to taste."
High Prices
With all the positive reviews, 2010 is plainly a vintage to consider. Yet the high prices could potentially discourage manywilling to invest in wine. Ms McCoy quoted Olivier Bernard of Domaine de Chevalier as blaming wine investment funds for the high prices. "Wine should be drunk with a smile," Mr Bernard points out. "If wine lovers pay too much, they don't smile. They may buy once without a smile, but they won't do it a second time."
In a phone interview, Gary Boom, managing director of the UK's Bordeaux Index,pointed outthat massive amounts of 2009 futures were sold even at high prices, "but only half of that with the 2010s" since "people had already spent their money."
So wine investors who didn't spend their money on the 2009 vintage and are thinking whether to invest in wine could potentially consider the 2010 vintage as an wine investment option.
2 Responses to "Is Bordeaux 2010 A Good Choice For Those Wishing To Invest In Wine?"