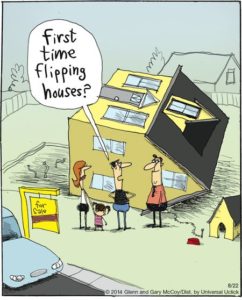 People who flip houses sometimes have a bad reputation because the work that they do necessitates that they be rather ruthless. To buy a house and quickly try to renovate it so that it can be sold for a profit is not an easy job at all, not least because so many factors in the success or failure of the enterprise are out of the person's control. For instance, if someone was to buy a house and start pouring money into it to get it to the point that it is marketable and then the economy started to suffer, that person could potentially lose lots of money. It is not just shifts in the country's economic well-being that can be a factor though. There is so much paperwork and legal fees that have to be processed to buy and then sell a house. Also, sourcing all of the materials and redesigning an entire house is something that some people spend years doing (although with the intention of creating a home rather than a profit). If you flip houses, you have to do it all much quicker. However difficult it may be, here are a few reasons why it is a great way to make money and something that you may want to consider doing:
It is not always the case that shifts in the economy are necessarily going to work against you. While it may seem rather callous, property foreclosures offer a good business opportunity. If you can buy a house as cheaply as possible, that gives you a greater chance of making a profit. Another good thing about the recent financial crisis was that it has lowered mortgage interest rates. This means that more people will want to take out mortgages, which means that there will be more potential buyers. Besides, the market is good right now. There are lots of people who are thinking 'I want to sell my house fast', a fact demonstrated by 5.71 million existing homes being sold last month, up from 5.47 million in February of this year. You always have to be aware of the rate of inflation, but right now is the best time to buy, renovate and sell houses in several decades.
Do not let anyone tell you that it is easy though. The sweat equity of flipping houses plays a big part in your final profits. If you do lots of the work on the property yourself, you can cut down on costs, but if you do not have the time or the skills and choose instead to hire outside labor, you can quickly see your future profits disappear. If you are not as handy with a tool belt as you'd like to be, you should consider trying to find contractors with whom you can negotiate a deal. If they work for a lesser rate, you could perhaps guarantee them work for several years.
Finally, to make money flipping houses, you have to be patient. Do not buy a house unless you are confident that it is the perfect one. Do not accept the first quotes that you receive from contractors and do not try to sell the place as soon as it is finished. Timing is everything.