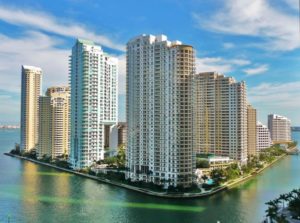 South Florida is amongst the strongest luxury real estate markets worldwide. Alongside with NY and London,this is the perfect spot for wealthy investors to run business and the reasons are simple; low taxes,the central hub for international business, strong population growth, diverse cultural offerings,and high quality of life continually improving, among others.
South Florida is one of the most populated states in America and one of the wealthiest economies in the world, occupying a GDP leading position in the United States.Definitely the best place whether you want to own a luxury home or invest in real estate property.
Investing in a South Florida luxury real estate also means high returns as its prices are always soaring and regardless of any market variables, there will always be people willing to go high-end. Renting is another option if you don't want to get rid of your property; whether you rent short term or long term, South Florida enjoys a strong rental market with high demand and good yields.
What is even more appealing is the variety of state-of-the-art properties you have access to in the luxury housing market. World-renowned developers and architects have devoted to constructing an overwhelming portfolio that includes features normally found in luxury resorts and 5-star hotels. Here's a short list you may want to check out:
Continuum South Beachis beautifully located in the southern tip of Miami. This is a two-tower condominium with resort-like amenities, services and fixtures that will provide owners the lifestyle they always dreamed of. The sophistication of the towers is evident just by entering the imposing two-story lobby and the unparalleled resort-like amenities, services, and fixtures this residential masterpiece has to offer. Prices can range from $975,000 to $15 M
South Pointe condominium prides itself with a convenient "SoFi" or "South of Fifth Street" location, dazzling views, and condominiums ranging from 850 to 1,270 square feet. The building offers a cozy café to get the day started a business center where you can impress your clients. Of course, the swimming pool and spa, billiard room and spa are not to miss. A residence in South Pointe starts at $849,000.
This is an exclusive new residential construction set on 4.6 acres with 450 feet of Fort Lauderdale oceanfront. The lavish tower features astriking oceanfront frontage and expansive terraces with ocean and city views.One of the prime features in the building is the upgraded spa services it offers. Find units at $2.5 M.
With panoramic ocean, bay and city views, this luxurious tower has got it all, and is one of the most stylish bay front properties in the South Beach area of Miami Beach. This opulent condominium affords a private Bay Side Beach Club and on-point amenities for residents to delight in, including 2 heated lagoon pools a sport club and a luxury spa giving it an all-round exclusive feel that's yours to keep. You can find units starting at $825,000.
This residential masterpiece offers 67 exclusive residences set right on the waterfront in the elite area of South Beach in Miami Beachoffers 67 exclusive residences set right on the waterfront and it pampers it residents with only four residences per floor, each with flow-through design plus water and city views, a state-of the art spa to Take a break from your daily routine, and an infinity-edge pool overlooking the water, among others. Units start at 8.5 M